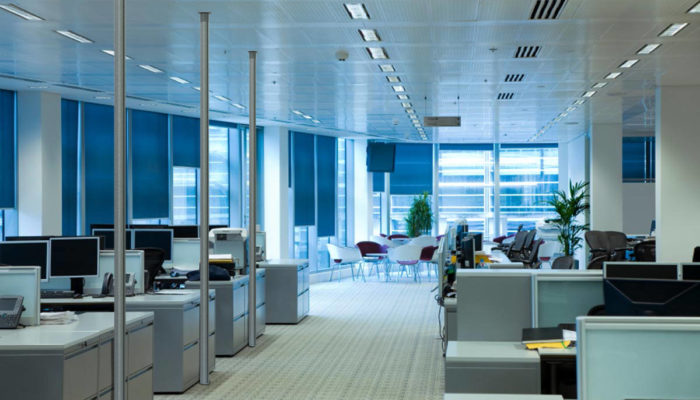 When you are working at the office, you expect that the environment will be according to your taste. But sometimes it turns out to be the opposite what you were expecting. At other occasions as soon as you enter the premises of an office you feel positive energy attracting you.
There are different elements to it. The one that is visible in the interior of the office. Many offices have the same old boring internal decoration that doesn't have an appealing effect. But the offices that have a captivating interior take help from interior design software because new and innovative trends are been introduce that make an office more fascinating.
Why follow New Trends?
If your office is not attracting clients or employees then there can be several reasons for it. One of them can be that the overall look of the office is average, plain and simple. It doesn't have something new in it. When companies and businesses introduce new tens in their offices; it provides many advantages.
A Good Impression:
The first and initial benefit it gives is a good impression of the office. Your clients will think that you have new ideas to share and creativity will flow out of it. The people who will visit you at first will always come to you for business.
Several Choices:
You can have lots of designs to choose from when you want to décor your office. Several of the new trends will be discussed further afterwards and you will be surprised to know the variety it has.
Comfort and Trendy:
When an employee has to spend 8 hours or more in an office or sitting on the same chair; it can become really uncomfortable sometimes. But the latest designs that are introduced by software assure that the employees are working in a cozy environment.
Create Spaces:
Many of the new trends developed are assisting designers in creating more space in a limited area. Various techniques are being introduced so that extra space can be made to welcome and accommodate new hiring.
Innovative and Classy:
If you are a lover of the traditional ways but at the same time want to have something classy and advance then there are many ideas that can be incorporated to make your office traditional, as well as that, has class.
Interior Design Software focuses on Trends:
There is software that only focuses on developing new trends on how to make the office more productive. This means that the employees and staff are working under no stress and in a friendly environment. Various solution companies like Unique Soft being one of them are introducing new and creative trends that are constructing a long-lasting impression.
Add a Bit Nature:
As you very well know that nature has an everlasting impact on the environment, so at present the designers and companies are focusing on designs that can have nature in it. Many ideas can be used for this purpose like; use recycled products, have small and medium-sized plants which will help in reducing noise and have awareness banners to help in wasting less.
Include Technology:
There are many instances when the employees have to take their laptops and other devices and work in other places so it is a necessity that source to power up the devices is available at all places. Plus, the facility of Wi-Fi is present and is uninterrupted.
Motivational Home Design:
No one wants to work in a surrounding that is of a typical office with no color or boring. So various new trends are been introduced to make them happy and one of that is having the architecture of the office based on home design. There can be a sitting arrangement, a mini fridge, an inclining sofa, bean bags and a few other items.
Open Meeting Spaces:
There are special rooms for corporate meetings that are exclusively for business purposes but specific spaces must be used which are open and have no walls for general sitting and discussion amongst various departments.
Giving Privacy:
Many tasks are given to employees that need privacy so you can use the software to design the office that has an area specified for performing jobs that require total secrecy. Although many companies don't have the policy of working privately there are various jobs that the employee has to do in solitude so he/ she will need a secluded place to do so.
Relaxation Rooms:
All work and no play is enough to destroy the qualities of flexibility, discovery, innovation and accepting changes and in office work, you need all these characteristics. So if you want your staff to give in their fullest capability then the new trend of having rooms with relaxing furniture to make the minds of the employees free from the work. This will clear their thoughts and after that when they will start, their minds will be fresh and flowing with creativity.
Natural Source of Light:
Scientists have predicted that if global warming continuously increases at the current rate then it will have devastating consequences. So countries around the world have developed various policies so that the rate can be decreased. This can be done by using fewer natural resources to fuel up. One thing that can be done is to have offices designed in such a way that sunlight is used throughout the day.
You can easily incorporate the above-mentioned trends in your office by using interior design software. Many businesses and companies have increased their number of clients and productivity by the development of new trends.